Max Series with Wi-Motion Mobile Control Smart Height Adjustable Standing Desk
Max Series
AED 1,994.00
AED 2,215.00
-10%
Tax included
Max Series Dual Motor Smart Desk with Anti-Collision Sensor provides a smarter and easier way to adjust your ergonomic desks while Tracking and calculating the burned calories. It allows you to control the desk's height from your mobile devices via Bluetooth®.
Snake shape cable organizer included.
New anti-collision solution that Wi-Motion developed to enhance workplace safety while enjoying the comfort brought by height adjustable desks. When the sensor is alerted to objects, obstacle or any stress during the movement operation, it will immediately stop and reverse operating in order to prevent collision and harm to the user or desk. 
This ergonomic desk is designed to keep you energized, healthy and efficient at work. You can change between sitting and standing, making your desk a comfortable working environment.
Provides a smarter and easier way to adjust your ergonomic desk. It allows you to control the height adjustable desk from your mobile device via Bluetooth. The key features include:
Bluetooth synchronization
Memory function
Customized sit/stand cycle
Tracking/ calculating of calories burned
Safety support- error alarm notices
2x USB Chargers

Electrical control height adjustment, easy and fast operation.

Smooth lifting process

Digital display control panel for instant display of desktop height 

2x memory preset buttons to remember commonly used heights and a Lock button

The metal structural parts are made of high-quality cold-rolled and powder coated in white or black color
Leg Orientation: Rectangular Three Stages
Height Adjustable Range: 66-130cm
Maximum Lifting Capacity: 120kg
Speed: 40mm/s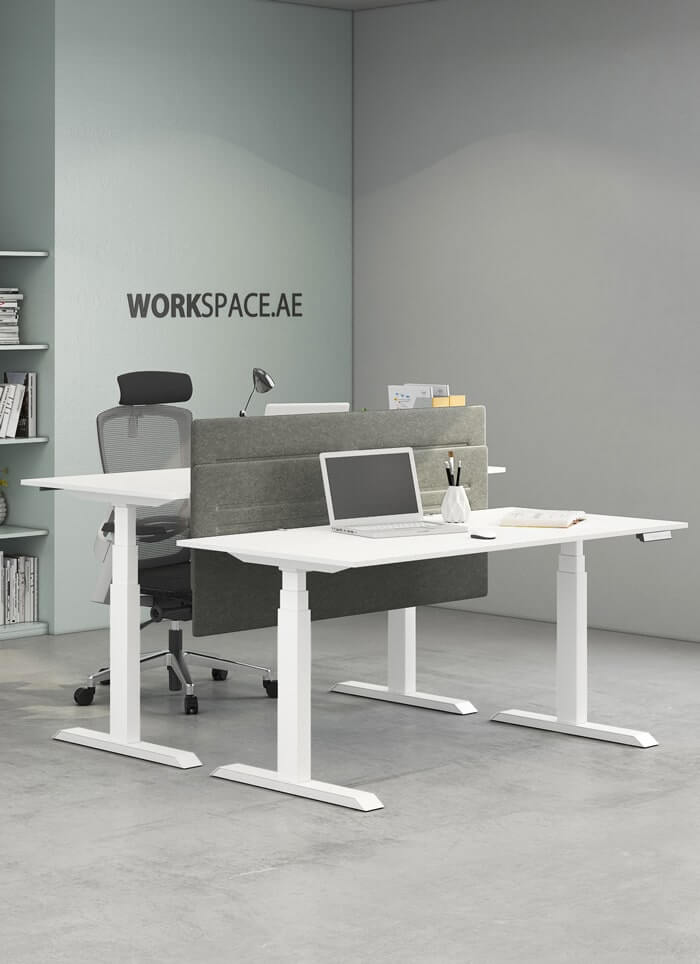 Warranty

5 Year Limited Warranty

Delivery

Production Time: 3-5 Working Days

WDS

Standing Desk Visualizer
Customers who bought this product also bought: